Member Directory
Bill Dugdale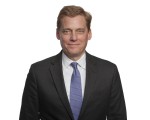 Advisor
AB Bernstein
1105 N. Market Street
Suite 1800
Additional Information:
William C. Dugdale is a Vice President and Financial Advisor in the Wilmington office of Bernstein Private Wealth Management, responsible for serving clients in Delaware and parts of Southern Pennsylvania. Bill advises individuals, businesses and institutions regarding a wide range of financial planning and investment matters, including sustainable investment solutions (ESG), retirement plans, estate planning, business transition, philanthropy and next generation education. Before joining the firm in 2018, he was a partner, portfolio manager and head of business development for the Delaware office at Brown Advisory, where he served families, foundations and endowments providing investment solutions and advice for over five years. Prior to that, he was a partner and portfolio specialist at Friess Associates, an Institutional Money Manager, for 18 years. Bill earned a BS in industrial and labor relations from Cornell University. He is a past president and board member of the Wilmington Tax Group and member of the Estates Planning Council of Delaware and the Delaware Banker's Association. Bill's community involvement includes being on the A.I. DuPont Nemours Hospital for Children Board of Managers, the Board of Directors of Delaware Community Foundation (founder and past president of its Next Generation chapter), eBrightHealth Board or Directors and the St. Michael's School and Nursery Board of Directors. Bill is also on the Advisory Board of The Barn at Spring Brook Farm, a nonprofit for children with disabilities.
Return to Member Search Results
The unauthorized use of member contact information obtained from this website and related material is expressly prohibited, as is the use of the "send a message" contact form for solicitation purposes.